Transform Your Data Center in a Flash
Critical business applications have never been so critical before with a dispersed workforce, greater attention being paid to conserving financial resources, and achieving greater capacity for all workloads. Choosing the right solution that meets all your storage business needs now—while growing as you scale—can feel like a big commitment. That's where iTBlueprint and NetApp can help.
As the leading trusted storage solutions provider in British Columbia and Vancouver, iTBlueprint has helped our customers evolve to the cloud and transform their businesses, inside and out. For enterprise applications, we turn to NetApp.
NetApp AFF all-flash arrays combine the world's fastest performance with the broadest source of clouds for unmatched reliability, scalability, and simplicity. Chosen as a CRN Product of the Year 2019, AFF A-Series arrays respond quickly to your performance-sapping workload demands so you can keep expanding business possibilities.


Smarter Office
To keep up with your smart office—no matter where that may be—you need storage that can be provisioned quickly and without weighing down your already overwhelmed admins. AFF A-Series arrays deliver a broad source of clouds, data-reduction capabilities, and AI-based predictive analytics to free your IT team from mundane performance troubleshooting so they can focus on innovating.
Performance Powerhouse
AFF A-Series arrays can take on your most demanding enterprise apps—data analytics, AI, machine learning, and more—by combining NVME SSDs with NVMe/FC connectivity to provide unprecedented performance without any disruptions.
Synchronous Security
NetApp AFF A-Series meet your strictest SLAs with zero data loss and zero downtime. And with best-in-class application-consistent data protection, synchronous replication, built-in encryption, WORM protection, multi-factor authentication, FIPS 140-2 Level 2 certification, crypto shredding and more, you can rest easy knowing you can meet even the strictest governance and compliance requirements.
ROI Friendly
You should only pay for what you use and with NetApp's market-leading data reduction features—deduplication, compression, and compaction—you can reduce data center costs with industry-leading storage efficiencies backed by NetApp's iron-clad guarantee.
Competitive Edge
Support for SAN and NAS workloads and non-disruptive scaling help you unlock insights through your data and create extraordinary end-user experiences. When your business runs more efficiently it's easy to leave your competition in the dust. NetApp AFF A-Series arrays help you be more productive, more innovative, and more likely to stand out.
Support You Can Trust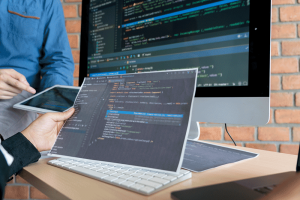 iTBlueprint and NetApp have a long solid partnership that has enabled partners like you to do more with their technology and realize greater return on their technology investments. We understand that your technology is only as good as the support behind it, that's why we provide you with simplified, predictive support services on top of the amazing best-in-class data services and cloud integration NetApp delivers.
We're proud to be a NetApp Gold Partner, our experienced technicians are ready to help you find the most appropriate NetApp storage for your business, and support your technology throughout its lifecycle, ensuring you get the most bang for your bucks. Check out our infographic to find out more about our NetApp storage solutions.
To learn more about what iTBlueprint and NetApp can do for your business, contact us at 833-9IT-BLUE (948-2583)