There's been a lot of talk about SASE and like any new technology, a lot of promises about how it will "change the world as we know it." More than just a cute acronym, SASE stands for Secure Access Service Edge which put into every-day speak means delivering consistent security and quality of user experience no matter the device or the users' location.
This is done by building an architecture that converges networking and network security functions and shifts them toward an as-a-service (aaS) cloud edge model. Sounds amazing, right? But in order to benefit from SASE, and all it's moving pieces, you need to have a plan that creates those connections for a reliable convergence of products.
Evolving technology with a lot of moving pieces often means trying to duct tape disparate products together and hoping that they work well together, or else.
Currently a complete SASE solution incorporates a lot of individual technologies that aren't quite fully integrated:
SD-WAN networking
Security stack of technologies, including firewall, SWG, CASB and ZTNA
As-a-service cloud edge model
Now you see why instead of a godsend, SASE could turn out to be a migraine-level headache when working with a variety of vendors instead of having one vendor who can provide everything you need.

As a leader in SD-WAN, security, and networking, Cisco Meraki does it all. Meraki has already converged everything you need (even IoT) onto one platform. Not just any platform though—one that has been at the vanguard of the industry since day one, built on a foundation of over a decade's worth of experience, meticulously building and honing the industry's most trusted cloud platform. That's why at iTBlueprint, we recommend Meraki for our customers' SASE needs.
All for One SASE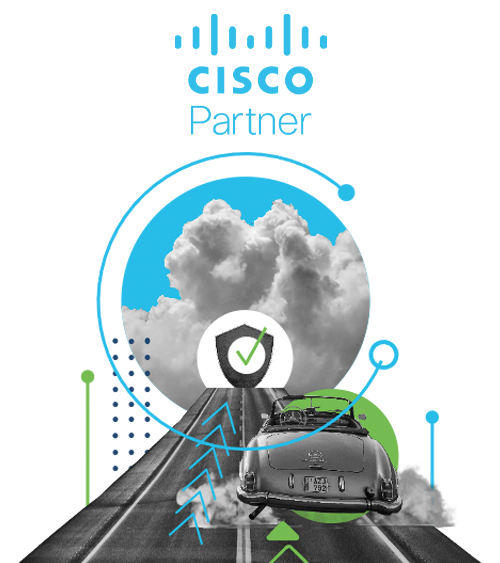 Since SASE is made up of so many convergent products, it may seem easiest to go with the pieces you already have and try to fit them together. But taking disparate solutions and trying to mold them into a SASE architecture that not only delivers, but also pays off, is another thing. There are a lot of things you should consider before going DIY.
Expectations
An all-encompassing challenge is managing your SASE expectations. These will evolve over time but managing the multiple factors that influence your SASE decision, and choosing architecture that is best for your organization, is the foundation of SASE success. Cisco Meraki has proven their worth in delivering as promised. Expectations are clearly defined and keep in step so you never have to second guess.
Environment
This includes your existing infrastructure and any related managed service contracts, the size of your organization, geography and regional limitations, and availability. If your organization is large, you also have to take into account the change process for both your tech and your people. A global leader in technology, Meraki can integrate with your existing infrastructure—or help you find a better alternative—to meet your business goals.
Compliance
Regulatory compliance is a major influencer, especially in certain industries such as healthcare and finance. Not all SASE solutions are the same, this includes where they fall in the regulatory spectrum. With a wealth of experience across industries, Meraki's platform helps you ensure you are in, and stay in, compliance to meet regulatory standards.
Buy-In
You've made your case and shown the powers that be that SASE could benefit your organization. But do they believe you. Incorporating SASE into your corporate IT investment strategy can be difficult without the right buy-in. That's why your case has to be clear and align with what matters most to your organization. iTBlueprint and Cisco work with you to help you develop a strategy that lays out your roadmap for success. There isn't a question we haven't answered. We can put your team's minds at easy so your organization can move forward.
Missing Pieces
Bases on your starting point, you may be missing a few pieces of the SASE puzzle. This might seem straightforward, but just consolidating the two powerhouses of networking and security, and doing it well, cannot be underestimated. Your journey will involve either in-house development, acquisition, partnership with a variety of vendors, or perhaps even a combination of all three. Get everything with one solution provider—iTBlueprint—and in one solution—Meraki.
Learning Curve
You need to have a partner that is in your corner to deliver the experience and training needed to get everyone on the same page. iTBlueprint's team of engineers is made up on next technology innovation engineers and we take the time to learn the nuances not only of the technologies we support, but the unique use cases of our customers using that technology to expand opportunities.
Consolidation
Compromising on consolidation will reduce the technical effectiveness of a SASE solution as well as diminish its overall impact. It stands to reason that an effective SASE solution that is truly consolidated can only be provided by a single vendor. Meraki makes it easy to push aside compromise and get exactly what you want, in each piece, along each step, and with each new innovation.
---
A SASE Powerhouse
Wherever your starting point may be, the Meraki platform takes complexity out of every step of your SASE journey with open APIs for seamless integration across Cisco technologies and third-party systems.
iTBlueprint can help you address every challenge of your SASE transformation, to help you make decisions that best align innovation and organizational outcomes. iTBlueprint enables you to get the most from your Cisco investment by keeping your infrastructure solutions updated and supported, therefore extending the lifecycle and reducing the total cost of ownership. By driving out the complexity of IT, iTBlueprint delivers hassle-free and cost-effective technology for your organization.
Our vision is to deliver best-in-class security and experience for any workload, from anywhere, in the simplest way imaginable. iTBlueprint and Meraki—SASE from core to cloud.
To learn more about how SASE can benefit your business, contact us today.